Last October 10th the seminar The Global Backlash Against Gender Equality that was jointly organized by NFU, the Department of Global Development and Planning at UiA and The Strømme Foundation took place in Kristiansand and through streaming. In front of a packed house, different guest lectures talked about the setback for gender equality globally the last 10-15 years.
If you missed and would like to watch it, follow the recording below:
https://video.uia.no/media/t/0_9kvclm8g
If you wish to read a small summary of what happened, continue reading below.
---
Summary of seminar:
One key theme throughout all day was the impact that Covid-19 had on gender equality, with setbacks that happened during the pandemic being responsible for setting back goals for an entire generation.
After that, NFU chair Arnhild Leer-Helgesen (UiA) made a short presentation to introduce the theme of gender backlash and set the background for the presentations during the day.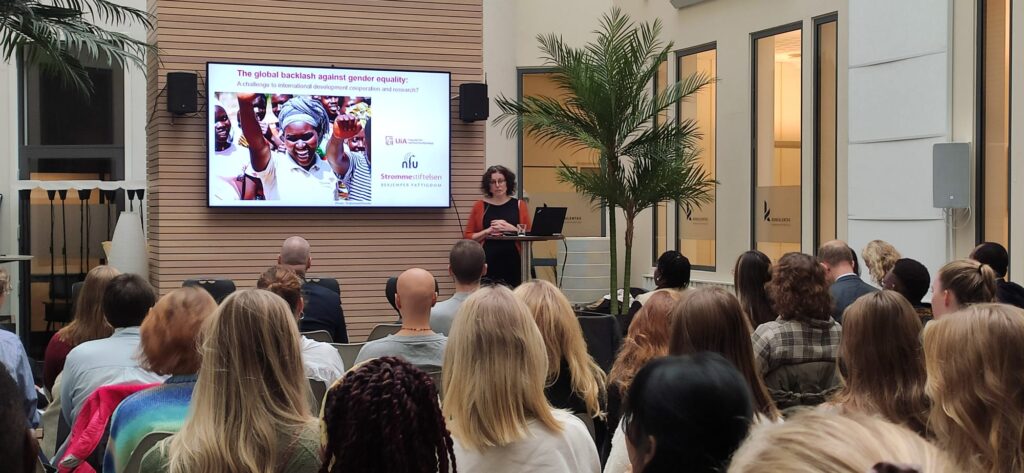 NORAD's Kari Thoresen discussed the importance of Norway's commitment to gender equality and steps being taken to reach it. She noted that SDG 5 results for gender equality are lacking and that the pandemic had a serious impact on it. One of the causes was the increase level of childcare that women undertook during the pandemic. Furthermore, the growing populism and right wing extremism have also contributed to increased levels of violence against women.
She stated that Norway is committed to help women's development not only in the country, but worldwide. In Norad there is a focus on localization of their gender approach, through the use of more local actors and grassroot initiatives.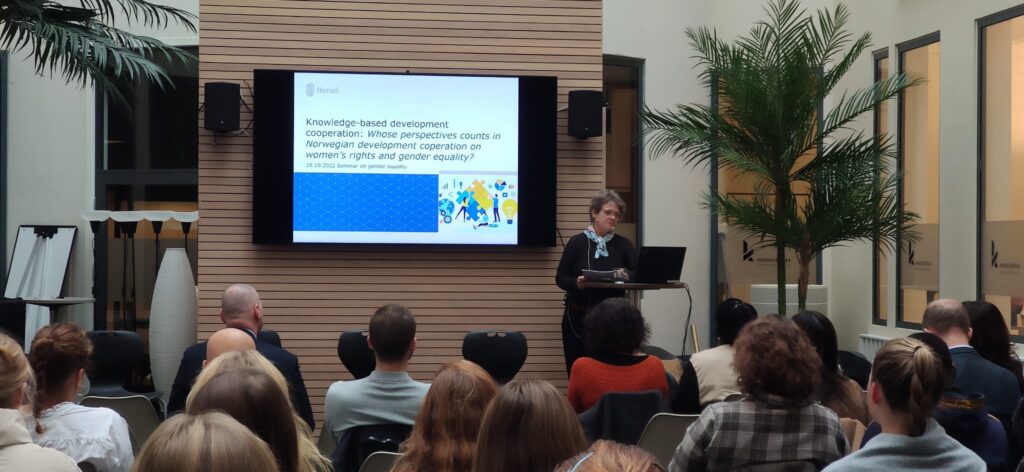 Ruth Nsibirano from Makerere University in Uganda talked about the fact that gender equality measures do not reach everyone . Particularly women without access to education or those that reside in rural areas, tend to fall behind.
Another challenge is the deeply entrenched gender roles and how difficult it is to overcome them. She argued that this is one of the reasons for the backlash and to progress towards gender equality it is often necessary to go against the norms.
She emphasized the role that universities play through generating knowledge and establish dialogues in the communities to open space for broader discussions about gender equality.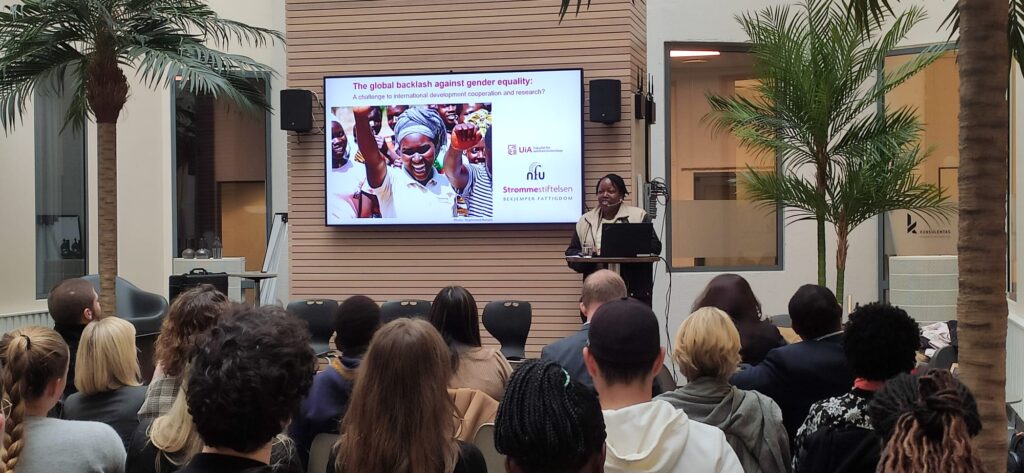 Strømme Foundation's Celeste de la Huerta talked about the projects that they have throughout the global south, as well as their approach to deal attempt to reach gender equality. The Strømme Foundation strives to address the root causes of gender inequality and sexism and is present in 11 countries in Africa and Asia and they work in a de-centralized manner, focusing on using local partner organizations, which they consider their strenght. They defend that sustainable development can only happen when local actors are involved. De la Huerta identified main challenges to gender equality: abuse, early pregnancy, early marriage, child labour and male resistance. She also discussed the need to include boys and men in programs, as they also need to participate in fight for gender equality.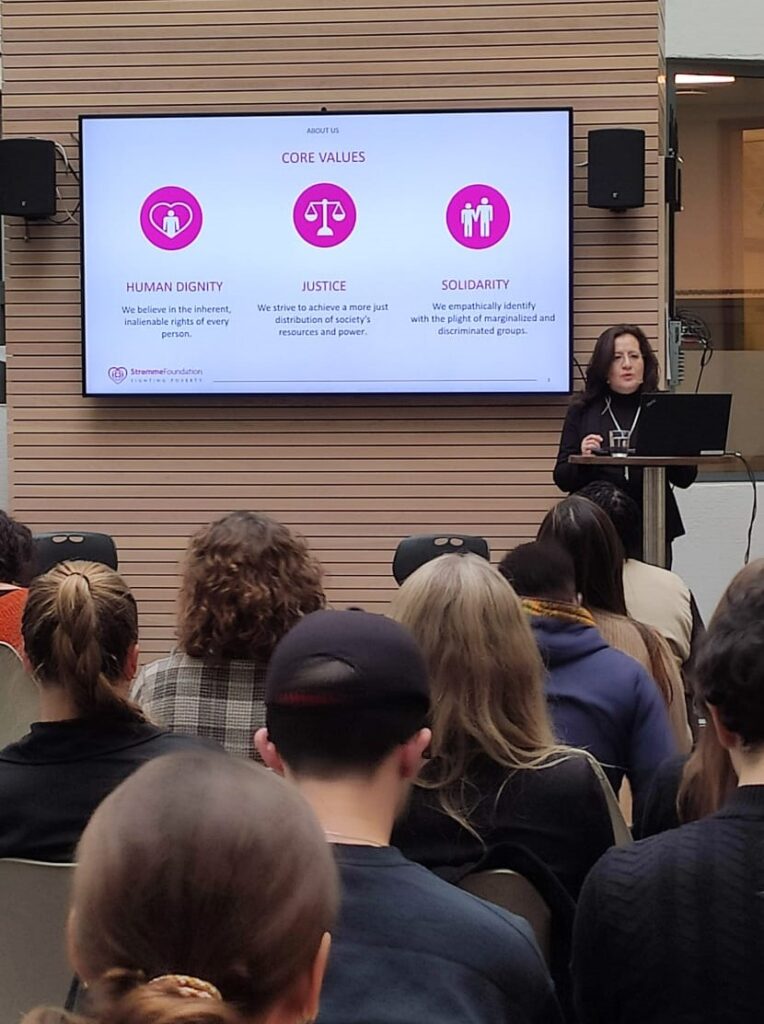 Hanne Haaland from Universitet i Agder discussed the challenges of teaching gender based in a cross-cultural classroom. She talked about the need to move beyond the binary idea when discussing gender, as there is more to the subject than just women. She also noted that debates regarding gender studies vary quite a bit between the Global North and the Global South, given cultural differences and what is common, and even allowed, to discuss in different countries.
Due to the current backlash there is a growth in self-censorship amongst gender researchers and this is very negative for the field. The growing hostility makes it can create more difficulties to reach gender equality in the future.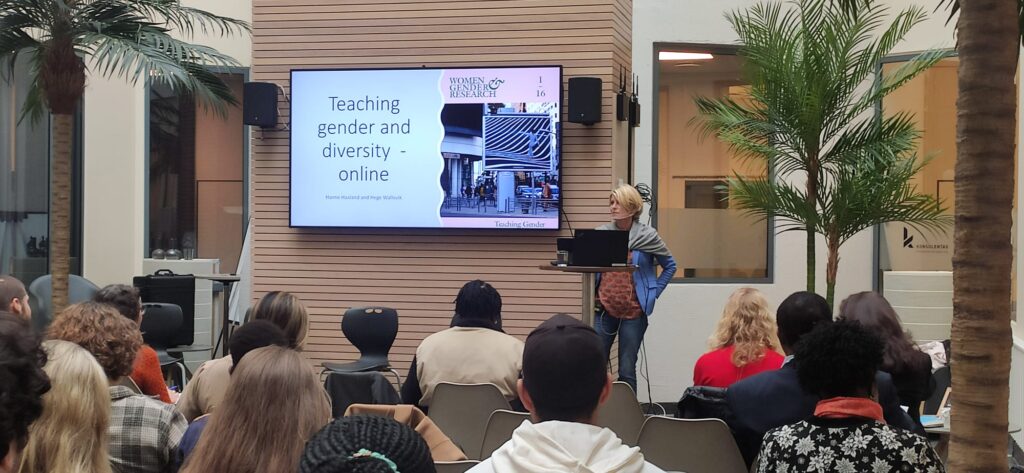 At the end of the day, there was a panel discussion with all the presenters and audience participation. It was a very interesting day, demonstrating the many challenges that lay ahead to reach gender equality, but also that there is a lot of people that are fighting to improve the situation.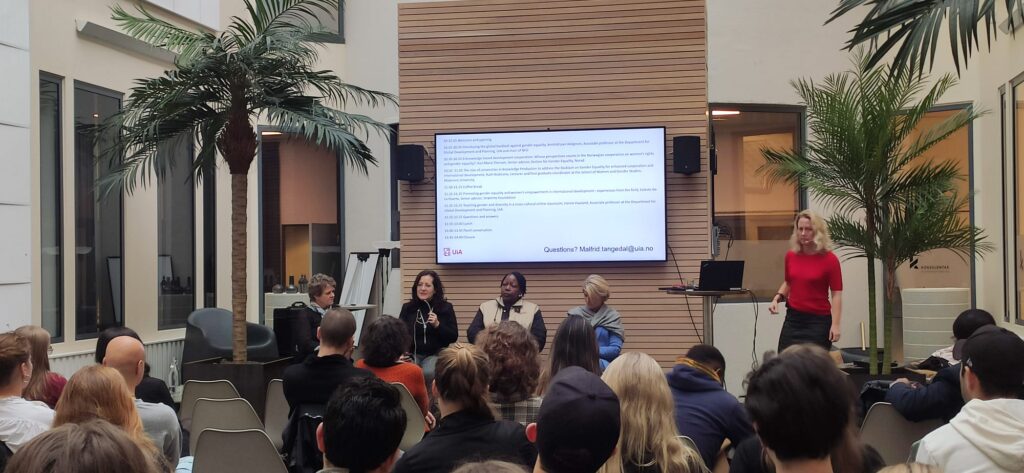 We, at NFU, would like to thank all the presenters and those who attended the seminar and look forward to continuing the discussion.