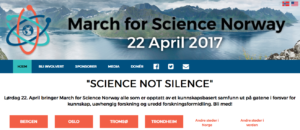 On April 22nd 2017 the March for Science will take place in many countries, also in Norway. Flagging "Science not Silence", the march highlights the importance of evidence-based knowledge and the role of science as a fundament for decision-making, politics and society in general.
NFU supports the March for Science in Norway and encourages all who support an evidence-based-knowledge-society out in the streets to defend knowledge, and to promote independent research, critical engagement and the need to continue to push society forward – and not backwards.
Do you want more information?
Read more about March for Science and March for Science Norway for updates on the march in Norway.
Read more about NFU here.